PENZION NA FAŘE
Dubenec č.p. 1
544 55 Dubenec
tel.: 604 274 008,
        603 257 405

email: info@penzionnafare.cz
Massages
Dear guests,
we have prepared for the season 2015-16 extension of the offer of our service trades about the experiential massages.
As a specialty we offer to you the massage of two persons at the same time, for a double experience, while you are massaged by a masseur couple!
You can choose from:
HAWAIIAN MASSAGE
This is a very pleasant and relaxing massage that is applied through relaxing and energizing hand and forearm touches. Special techniqueLomiLomi and the dance rhythm cause a deep therapeutic effect that eliminates stress and tension and charge you with positive energy. It has a strong psychic and spiritual effect – it helps you to break away from reality and to concentrate only on yourself and the whole relaxation. 
The Hawaiian massage is e very effective and relaxing massage at the same time and is called as a PEARL among other therapies.
This massage involves the massage of hands, décolletage and legs from front and behind, buttocks and neck. It is about one of the most luxurious massages.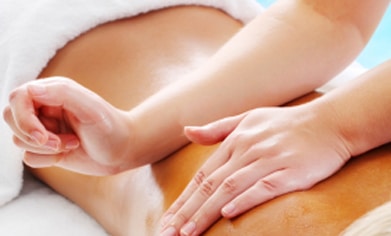 Effects of the massage: it comes to a deep regeneration of tissues, muscle spasms is released, muscle toxic sediments are eliminated, activity of the lymphatic and venous system is adjusted, nervous system is harmonized, respiration and digestion and evacuation are improved, joint mobility improves, it comes to blood circulation, it helps to cure neurosis, insomnia and migraine, it helps to calm states of increased psychic tension and unrest, it increases energetic level. 
Price: 750,-CZK/person  60 minutes (neck, spine, legs from behind)
BAMBOO MASSAGE
This massage belongs to the news in the world of wellness a relaxation and is a very effective and pleasant procedure that has a very outstanding relaxing and soothing reflexive and lymphatic figures. It works in a similar way as the lymphatic massage. During the Bamboo massage are used the bamboo sticks of different sizes related to the particular parts of the body.
It is suitable either for men – especially for sportsmen because of stimulation of nerve fibers – or for women, which welcome a beneficial effect especially on cellulite and swelling. This massage eliminates back pains, releases tension and muscle stiffness; has cosmetic effects in the facial area (eliminates so called double chin, drains off face). Skin is more flexible, softer and brighter after this massage. During this massage is the whole body massaged, inclusive of face.
During the Bamboo massage is worked with pressure and the particular kind of the bamboo stick that is warmed for a pleasant temperature. You experience through the combination of this massage and BIO oils that are used a brilliant technique being very popular at the clients of not only oriental salons.

Price: 790,-CZK/person - 60 minutes (neck, spine, legs from behind)
HONEY MASSAGE
This massage is not only a pleasant remedy and relaxation after a hard and stressful day but also a tool that can eliminate harmful toxins from the human body. Thanks strong honey effects and right compression massage touches on skin is the body cleaned from germs during this massage; it comes to cleaning of clogged pores and skin is filled with blood. Throughout the detoxification method comes slowly to elimination of accumulated harmful sediments and toxins from deep body tissues.
Honey massage has been proven especially in the treatment of diseases of civilization, from which we can name rheumatic diseases of muscles and joints, gastrointestinal disorder, chronic fatigue syndrome, headache, migraine states, depressions, liver diseases, kidney weakness, dermic problems, infertility or menstrual problems.
Honey massage is done on the patient´s back, because this spot belongs to the parts of human body with the highest percentage of hidden reflective zone which can eliminate the most harmful substances from the body. Honey massage could be implemented on thighs, buttocks, joints, knees or face. During reflective massage touches is activated the function that contributes to elimination of toxins from the organism through kidney, intestines and skin and they are excluded from the body through its skin.
Price: 690,-CZK/person - 45 minutes (neck, back + pack)
Reserved terms for massages: Friday 19-22 and Saturday 16-18 pm.
Massages are always to be ordered in advance!
In case of individual requests we have to ensure availability of the masseur and confirm it!!
You can buy massages as a voucher for your beloved persons.